Press Release
Solar PV installation: Fussell Wadman - Devizes
---
28th July 2016
Following an agreement made between Kennet Community Energy Limited (KCEL) and Fussell Wadman Ltd. on 22nd June 2016, KCEL is pleased to announce that the installation of a 29.68kWp solar PV system at the Fussell Wadman premises at the Hopton Park Industrial Estate in Devizes was completed by the end of June and the installation is fully operational.
This renewable energy facility is owned and operated by KCEL and supplies Fussell Wadman with a sustainable supply of zero carbon electricity.
Peter Moorcroft, the KCEL Director managing the project, said:
"The 29.68kWp facility consists of 112 panels supplied and installed by local Devizes company IDDEA. They have been fitted to the south east and south west facing roofs of the building and are expected to generate 27,100 kWh of energy and save about 16 metric tons of carbon dioxide on an annual basis"
- for more details on the installation see www.kennetenergy.org.uk/fussell_wadman.html.
This is the fourth project for KCEL, a community benefit social enterprise which was formed in January 2013. The members of KCEL, who collectively own the company, have all contributed to the fundraising to finance the earlier projects at Wadworth Brewery, Devizes School and the Trowbridge Civic Centre, as well as this new project at the Fussell Wadman premises.
Mark Wadman, a Director at Fussell Wadman said:
"This is a great opportunity for Fussell Wadman to not only benefit from a financial saving on our electricity cost, but also we are reducing our carbon footprint. We look forward to working with KCEL over the coming years."
About Fussell Wadman:

Fussell Wadman is Wiltshire's oldest Peugeot dealer serving the people of Devizes, Calne, Melksham, Marlborough, Pewsey and the surrounding areas since 1973.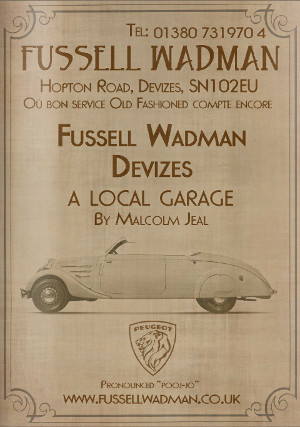 The Fussell Wadman history in the local area however goes back much earlier to the early 1900's and is the amalgamation of P. Fussell & Son from Chirton and W H F Wadman & Son in West Lavington.
Further information on Fussell Wadman can be found on their website – www.fussellwadman.co.uk and their full history as a local business is chronicled at:
https://issuu.com/exhibita/docs/fussell_history_002?e=3878888/33108083.
About Kennet Community Energy Limited:

Kennet Community Energy Limited (KCEL) is now known as a Community Benefit Society following the passing of the Co-operative and Community Benefit Societies Act 2014 which replaced the Industrial and Provident Societies Act 1965 on 1st August 2014.
KCEL conducts a renewable energy business for the benefit of the community, and is registered (# 31942R) with the Financial Conduct Authority (FCA) .
KCEL's vision is to build an enterprise owned by members of the community, developing renewable energy projects in the north and east of Wiltshire and the surrounding areas, which will make a major contribution to local, renewable energy generation.
As a community benefit social enterprise, the KCEL Rules have been developed so that all surplus income is given back to the community via a Community Fund and the company's assets are also 'locked', meaning that anything that KCEL owns can only be transferred to another body that is similarly constituted with its own 'asset lock'.