Fussell Wadman solar PV project
---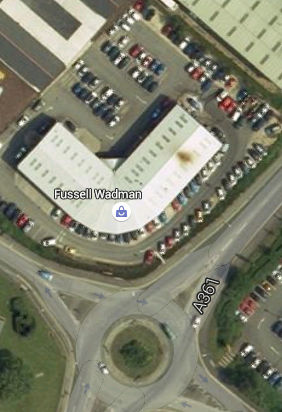 The Fussell Wadman Peugeot dealership in Devizes is located in the Hopton Park Industrial Estate on the corner of the roundabout of the main A361 and Hopton Road as shown in the image on the right.
Kennet Community Energy Limited have installed a 29.68 kWp, 112 panel solar PV array on the south east and south west facing roof areas and this installation is expected to generate 27,100 kWh of energy and save about 16 metric tons of carbon dioxide on an annual basis.
The progress of the installation was tracked with photos and commentary in the "Installation details" section below and "Performance data" will be published below for the operational system as it becomes available.
Installation details
The images below are from early on in the deployment by our local supplier, Iddea, with the scaffolding being installed, fixings being put in place to secure the panels to the roof and on through to the system being complete and up and running.
Performance data from the inverters is available here.
Solar PV project sites: