Trowbridge Civic Centre solar PV project
---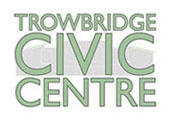 Trowbridge Civic Centre is located in the centre of Trowbridge in St Stephen's Place and a 48.9 kWp, 188 panel solar PV array has been installed on the south east facing sloping roof area as illustrated in the image shown below right.
The installation generates about 43,100 kWh of energy and saves about 22 metric tons of carbon dioxide on an annual basis.
The progress of the installation was tracked with photos and commentary in the section below.
Installation details
The system went live on Saturday 9th May 2015
The images below are from early on in the deployment with the scaffolding being installed at the end of April '15 and fixings being put in place to secure the panels to the roof - through to the system being complete and up and running.
Performance data from the inverters is available here.
Solar PV project sites: